Our Mission
Skiers like to ski and hang out with other skiers. As you get older, your circle of ski "buddies" begins to thin out. Our mission is to create diverse groups of travelers, from non-skiers to skiers of all ages and abilities, for the purpose of making new friends and ski connections. We'll place distant, exotic locales such as the Alps, Canadian Rockies, and the Andes of Argentina and Chile within your reach. We'll take you there and, better yet, get you home when the trip is over.
Our History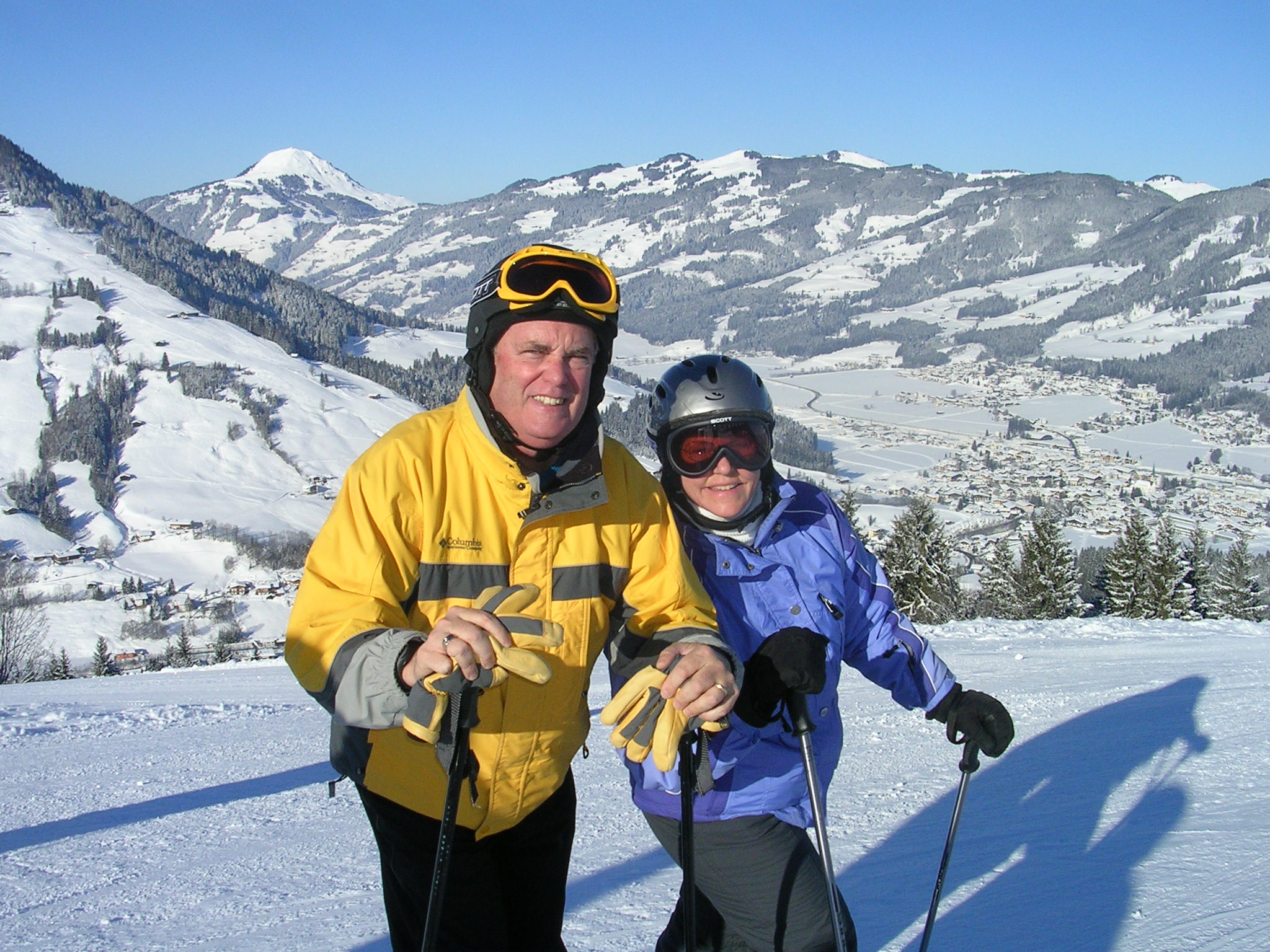 Charlie & Sue Thompson in Kitzbuhel, Austria
Charlie has been offering escorted ski trips since 1984. Some of the destinations have been: Innsbruck, Austria; Interlaken, Switzerland; Cortina, Italy; Kitzbuhel, Austria; the Aosta Valley, Italy; the Amade Ski Region, Austria; Banff, Canada; Chamonix, France; Mammoth Mountain, California; Bariloche, Argentina; Breckenridge, Colorado; and Quebec City, Canada. From these bases of operation, a number of other resorts have been explored including St. Moritz, Switzerland; Cervinia, Italy; St. Anton, Austria; Zermatt, Switzerland; Obertaurem, Austria; Keystone, Copper, and Vail, Colorado; Heavenly Mountain Lake Tahoe, California; Kicking Horse, British Columbia, Canada; and Ischgl, Austria.
Charlie was, for 34 years, the chief executive officer of the Whitin Community Center, a non-profit family recreation center in the town of Whitinsville, Massachusetts. Prior to running ski trips, Charlie learned the travel/tour business escorting Center-sponsored weekend trips to such places as Niagara Falls, Washington D.C., and Toronto, Canada, in addition to day trips to the Red Sox (when you could still buy a block of tickets), Rocky Point Amusement Park, and Ringling Brothers Circus.
Charlie's wife, Sue, was an avid skier, and enjoyed many of the non-sking activities on the trips. Sue battled Multiple Myeloma, a cancer of the blood and bones, before succumbing to the disease in May 2009. She is greatly missed by the many Ski With Charlie friends and customers.
Sue atop the Arch D'Triumph in Paris